RFID-kortläsare Tripod Turnstile för skolan
RFID Tripod Turnstile (kallad Waist Height Turnstile, Tripod Gate, Tripod Barrier, Tripod Dörr) Fullkropp tillverkad av 1,5 tjocklek (standard) 304 eller 316 rostfritt stål, består av tre barer, mekanism, elektrisk krets, elektromagnetisk, hydraulisk spjäll, led lampa och så vidare.Det är ekonomisk fotgängare tillgångskontroll.
ANSÖKAN

Elektromekaniska svänghjul och portar används som en del av närvaro och åtkomstsystem för att rymma kontrollerad personrörelse. Installerade i fabriksporthus, lokaltillgångar eller idrottsanläggningar (pooler, arenor osv.), Svänghjul ger och leder varje enskild persons passage eller tjänar som säkerhetselement för att neka åtkomst.
Funktionen beror på konfiguration. Samtidigt loggas varje persons passage med hjälp av ID-mediet, vilket innebär att man samlar in fullständiga närvarouppgifter.
1,5 tjocklek 304 rostfritt stål och AC220 / 110V 50 / 60Hz stativ vändstångsport
Features Introduction
Normal Open/Normal Close Features
Normal Open Status
Tripod Turnstile doesn`t lock when normal working. When received
valid signal, it automatic turn 5 angles. During valid access time, it will turn automatic once
someone touch barrier, Turnstile will be locked when invalid access.
Normal Close Status
Tripod Turnstile is locked when normal working, When received valid
signal, It will unlock and automatic turn 5 angles. During valid access time, it will turn automatic
once someone touch barrier
Counting Function
Manual
It can be counted access times, one valid access counted one time (add 1). Meanwhile,
counter can be collected or cleared by software.
Valid Access Time Setup
Turnstile receives open signal, during valid access time, there is no one access. This
access authority will be cancelled and does not count this as record.
Valid Open Barrier Signal
Record: When the position of dialer 3 is ON, read card N times, record N open times.
No-Record: When the position of dialer 3 is on digital X, continuously receive N times
open signal and valid open signal, only keep the last valid signal, only 1 person can access.
Power off, barrier fall
Power on, barrier up by manually or automatically
When power off, barrier will fall, and the person can access freely. When power on, the
barrier will automatically recover to setup status.
Under normal open status, force access alarm and reset function
If interloper push barrier turn to around 5 angles, turnstile will be locked 1s. If interloper push
barrier turn to around 20 angles continuously, turnstile will be locked 2s and alarm. If don`t
push barrier, it will automatically recover and alarm will be cancelled.
Stativ Ställstångsstyrningsstruktur och delar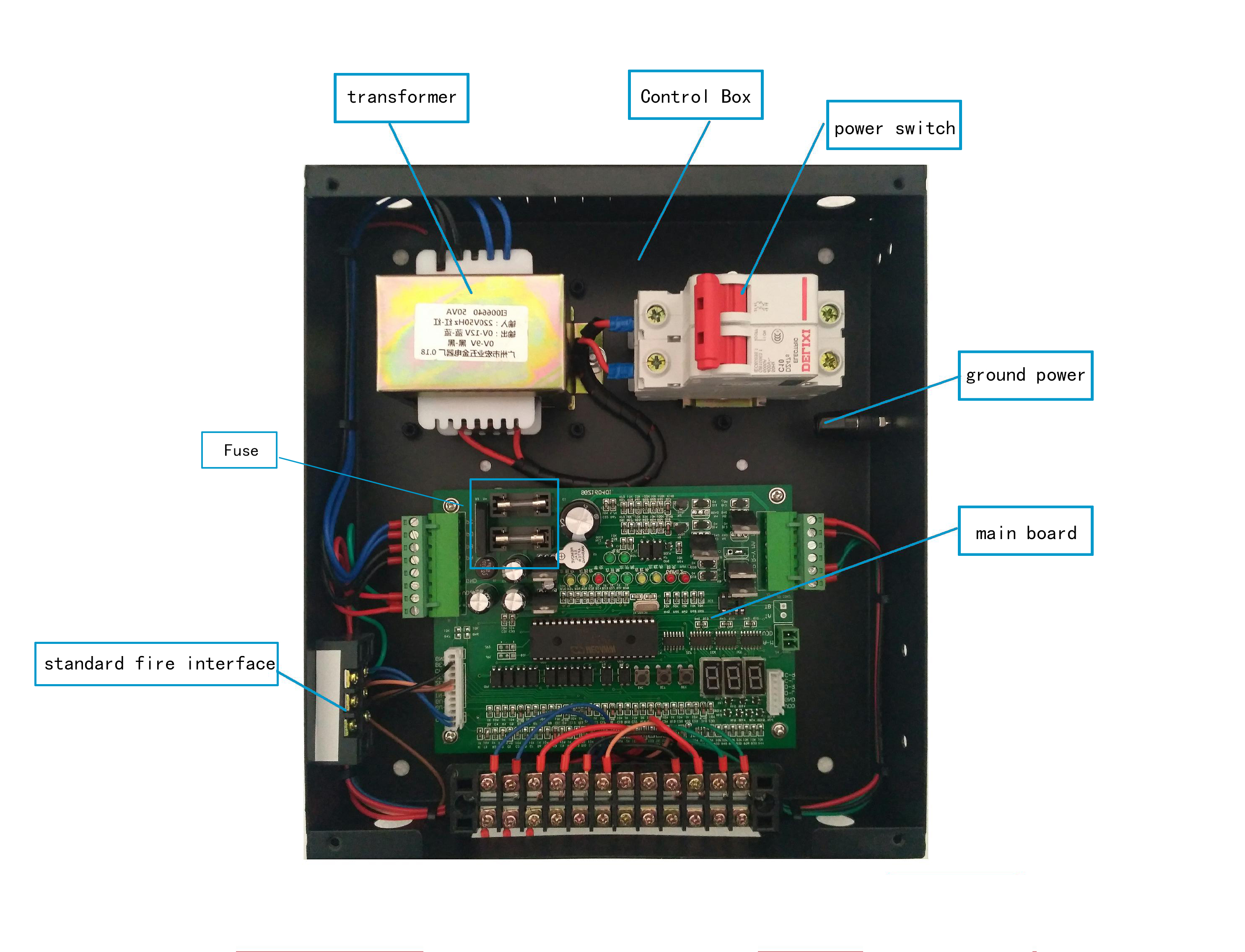 Control Box
-Standard fire interface
with standard fire interface,arm can drop sown for evacuation even power is not cut off when fire alarm triggered.
-Fuse
The fuse is also called a current fuse, which is defined by the IEC127 standard as a "fuse-link". It mainly acts as an overload protection.
-transformer
power input 220/110V+10%V,50/60+10%HZ
-power switch
input AC220/110+10%v,output DC 24V brushed
-group pole
connection neutral wire
-main board
the hard-core of tripod turnstile
Hydraulisk spjäll Stativskydd
Power Input: DC24V power supply input port.
Limit Shift Switch
-It will know any person access. If there is no this signal, controller will keep waiting (access time)..
Anti-clockwise and clockwise access Input
-After receive switch signal input, it will control clockwise output port or anti-clockwise output port.
Barrier feedback Input
-The tripod shift one time 120° , it will output a low level signal. It is used in ticket system.
Anti-clockwise Output Port
-Output DC 24V.
Clockwise Output Port
-Output DC 24V.
Barrier-up Control
-This port output 24V. Barrier will up by it control electromagnet.
Direction Indicator
-It displays access direction.
Stativet Ställbräda Huvudbräda Portinstruktion







GND Power GND

24V 24V Power Input

ZERO Limit Shift Signal Wire

VCC Limit Shift Switch Power Wire

GND Limit Shift Switch GND

OP_L Anti-clockwise Open Signal

COM COM port 12V

OP_R Clockwise Open Signal

12V 12V Power Output PS

-Barrier feedback Signal

+24V 24V Power output




M0

Anti-clockwise Output Port



M1

Clockwise Output Port



R

Direction indicator Light Data 1



G

Direction indicator Light Data 2





Anslut med

riktningsindikatorplatta (Tripod Turnstile)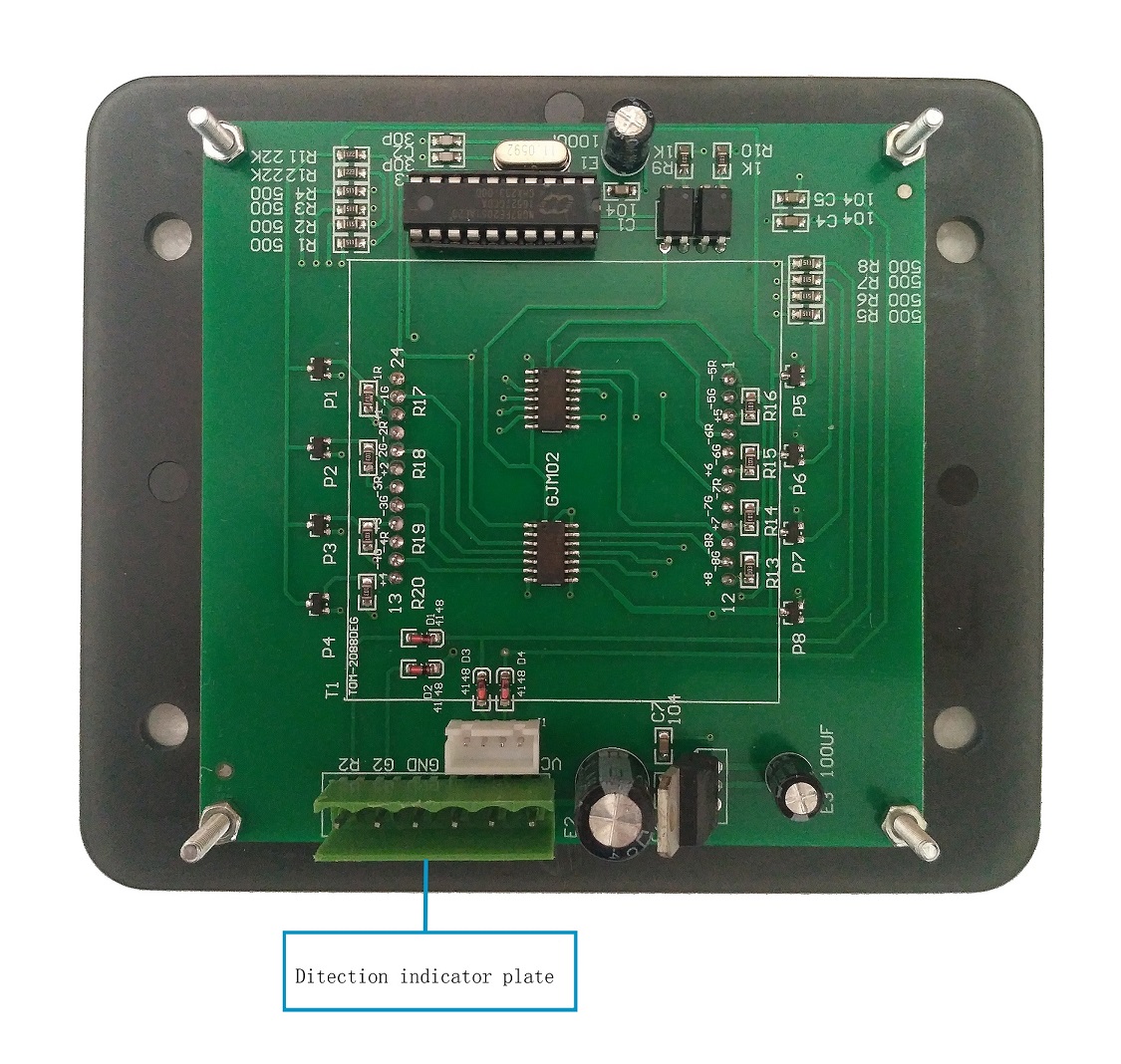 Stativets stavmekanism struture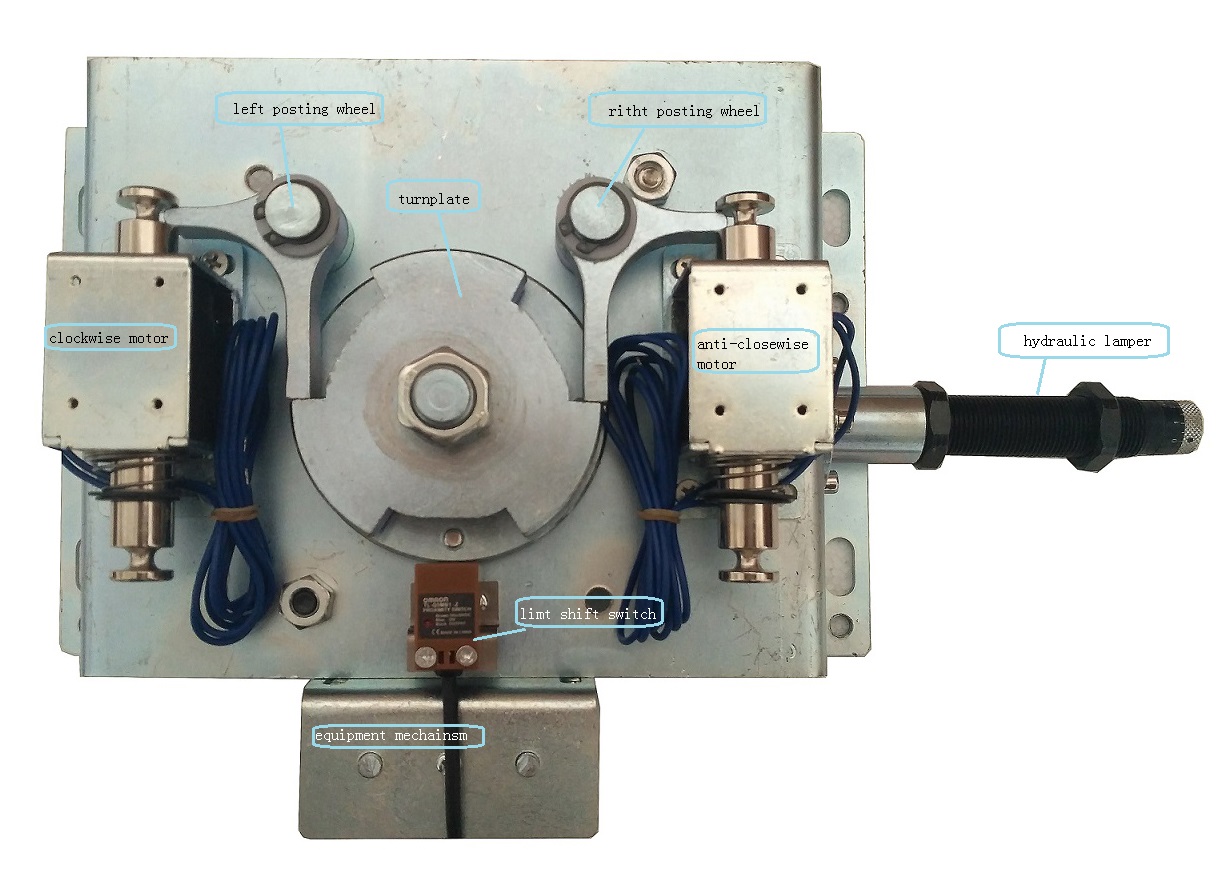 Stativstångsanslutning
Stativtangentfunktioner
Grundfunktionen
1. Med tydlig indikeringsfunktion kan den anslutas med riktningsljuskort för att visa åtkomstriktning.
2. Med anti-follow-funktion: Det kan automatiskt avbryta åtkomsttiden efter varje person
nås för att undvika att följa.
3. Med olika arbetslägen att välja, kan den vara enkelriktad åtkomst, dubbelriktad åtkomst, kontrollåtkomst via huvudkortets växlingssignal (den ska vara ansluten till styrsystemet, åtkomstkontroll, fingeravtryck etc.). Alla kan ställa in via menyn på huvudkortet.
4. Med automatisk återställningsfunktion: Efter mottagning av öppningssignal avbryter systemet automatiskt åtkomsten om passageraren inte kunde komma åt under den angivna tiden. Och den begränsade åtkomsttiden kan ställas in i huvudkortets meny.
5. Med funktionen av fallstången när den är avstängd, kan den uppfylla användarens speciella förfrågan och brandsäker begäran.
6. Med både riktningselektromagnet och positionsbegränsad brytartillverkning (för höghastighetskärnor i svänghjul) kan den tillgodose de olika kundens krav.
Funktionsinstruktion
1. Det finns sex knappsatser på huvudkortet. S4 och S5 lämnas öppen och höger öppnas separat. S1 används för att komma in eller gå från menyn. S2 och S3 är uppåt och nedåt, det används för menyinställning.
2. Lysdioden på huvudkortet är 3 siffror från vänster till höger sida. Normalt läge är 000.
3. Efter menyn: För att trycka på menyknappen, kommer den att visa [P00 '. Det är in och ut knapp. S2 och S3 knappen kan inställningsfunktionsnummer, det finns 5 lägen för inställning.
P00: Ange och avsluta menyn
1), Turnstile typ P01: 1-0: Elektromagneten är aktiv när den är påslagen. (Den passar för stativets stativ). 1-1, Riktningselektromagneten kommer att misslyckas vid strömavstängning. (Den passar för höghastighets vändning). Standard är 0.
2), Initialisering P02: 2- O är NEJ, 2-1 är Initialisering
3), Access Time P03: 306 är maximal åtkomsttid (er), standard är 6s.
4), Arbetsläge P04 4- 0: Medurslutning och medurs åtkomst måste du läsa kort, 4-1: Kortslutning och medurs åtkomst utan kort, 4-2: Medurs åtkomst med kort och moturs utan kort. Standard är 0.
5), Testfunktion P05: 5-0 är utgångstest, 5-1 börjar testa. Standard är 0.
6), Anti-clockwise och clearP06, 6-0 räknas eller räknas inte (0 räknas inte, 1 räknas), 6 = 1 kontrollerar åtkomststatistiken, 6 = 2 är klar. Standard räknas inte.
7), räknar medurs och rensarP07: 7 = 0 räknas eller räknas inte (0 räknas inte, 1 räknas), 6 = 1 kontrollerar åtkomststatistiken, 6 = 2 är klar. Standard räknas inte.
8) Giltig åtkomstinspelning Funktion P08: 8-0 är ingen post, 8-1 är moturs för inspelning, 8-2 är medurs för inspelning, 8-3 är moturs och medurs. Standard är ingen rekordfunktion.
9), Access Setup P09: 9-0 moturs och medurs, 9-1 är endast moturs, 9-2 är endast medurs åtkomst, 9-3 är medurs och åtkomst till motsols är förbjuden.
Produktkategorier : Spärr > Tripod Turnstile